• Stew smith • BUDS • combat swimmer stroke • drownproofing • rescue swimmer • sar swimmer • swcc • swim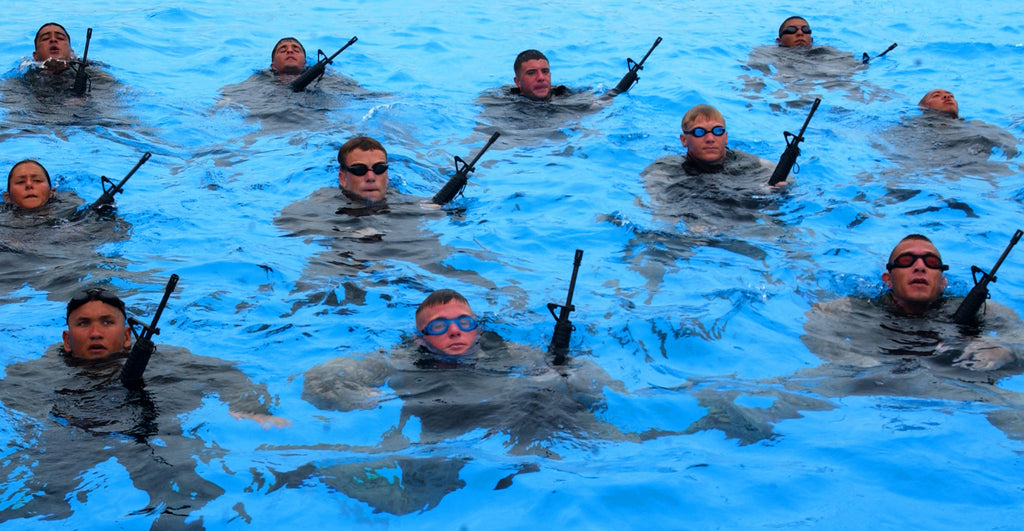 Workouts and Techniques That Help with Drownproofing (SAFELY) Many people need to work on their water confidence.  Treading water, swimming, swimming underwater is one way to build a moderate level of confidence in the water. Add in gear, equipment, clothing, and for some units hands tied / feet tied and you have a high level of water confidence that is required in many of the nation's special ops units like Navy SEAL, Air Force PJ, and USMC RECON.  Some rules:1 - Don't swim alone2 - Do NOT practice underwater swimming alone3 - Do NOT do underwater breath holds for max...
---
• stew smith • pst • pullups • pushups • special ops • stew smith • swcc • swimming
The Special Warfare Combatant Crewmember (SWCC) of today is the product of years of history. Since 1963, when one of the father's of Special Warfare - Phil Bucklew commanded and developed the Special Boat Units of today to specifically support the SEALs and UDTs during the Vietnam War. Since then, the "Brown Water Navy" has distinguished themselves and are now one of the three components of the Naval Special Warfare Command (SEAL Teams, SEAL Delivery vehicle (SDV) Teams, and Special Boat Units). These high-tech, high-speed boats make up the maritime component of the U.S. Special Operations Command.SWCC PST Standards:  Your...
---
• stew smith • army sf • BUDS • mental toughness • military • military fitness • motivation • pst • special ops • special ops training • stew smith • swcc • underwater swimming
Here is a question I get often concerning the way a person prepares for Special Ops type training programs for both military and law enforcement SWAT teams. My answer is usually, "It depends - Not only on the training you seek, but your athletic history / background." Here is his question and my lengthy answer that takes many of the body types and foundation of fitness issues that arise when people start a training plan for Spec Ops.Stew I'm going to guess you've already answered this question somewhere, so forgive my redundancy. I'm 27 and looking to get into the...