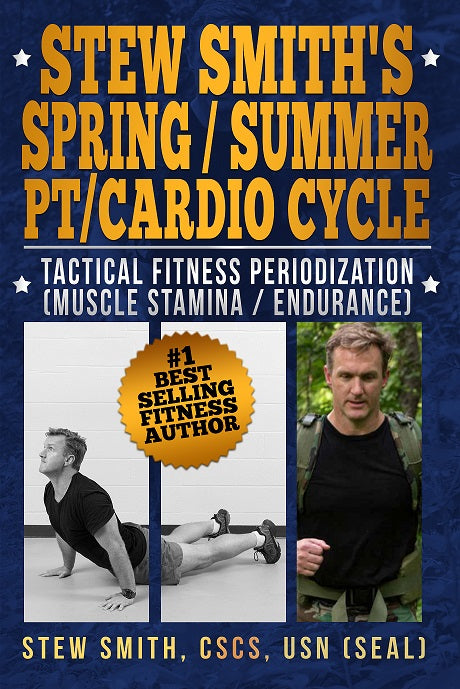 stew smith fitness
EBOOK - Stew Smith's Spring - Summer PT / Cardio Cycle (24 Weeks)
Stew Smith's Spring and Summer PT / Cardio Cycle ebook holds the secret to building muscle stamina and cardio endurance (run / ruck / swim and others) in the upper body, legs, heart and lungs. The program emphasizes cardiovascular activity and high repetition resistance training to crush military / police / spec ops fitness tests. The supplemental weight training workouts will be quick and fast, focusing more to engage muscle groups that balance the high repetition calisthenics.
Stew Smith helps struggling Military, Special Ops, Law Enforcement, and Firefighter candidates get TO and THROUGH intense tactical assessment and selection programs.  This program is similar to the Calisthenics and Cardio Book, but more advanced. 
Here's the big payoff for you: This periodization program is the Spring-Summer phase we have tested for over 20 years with amazing results. If you need more work with endurance (running / swimming) and higher repetition calisthenics for muscle endurance, this is the plan that will help you crush PT tests and long days of training. 
What makes this book truly stand out is you can talk directly to the author and discuss training among other tactical athletes through his website - StewSmithFitness.com or his Facebook Group - Stew Smith's Tactical Fitness Training you can join a community of people who are like minded in their fitness and health pursuits.
Stew Smith's Spring and Summer PT / Cardio Cycle is for you if you are a stronger type athlete (strength / power athlete) and need to work on your endurance and high repetition calisthenics and weighted activities of selection programs in your future.
The good news for you is, it is $19.97 for the Ebook, but the link into a supportive Facebook Closed Group community is FREE and priceless.  You can also get the book version if you prefer coil bound book form. 
If you are serious about physical preparedness and success and you really want get TO and THROUGH military training, check out this book (and others).  For this specific program, if you need help with running, rucking, swimming, calisthenics, and overall preparedness for military and special ops training, this 24 week program is your answer.
In case you need to focus on your weight training and over all strength more than endurance at this time, check out StewSmithFitness and you will see Stew Smith's Fall and Winter Cycle.  However, this ebook is the Spring / Summer answer to the Winter Strength cycle and completes the yearly training cycle in two easy to use ebooks.
Get the EBOOK today. 
If you want the BOOK - see link: Stew Smith's Spring/Summer PT / Cardio Cycle BOOK
Any questions along the journey - please feel free to email the author - Stew Smith CSCS at stew@stewsmith.com
---
Share this Product
---
More from this collection