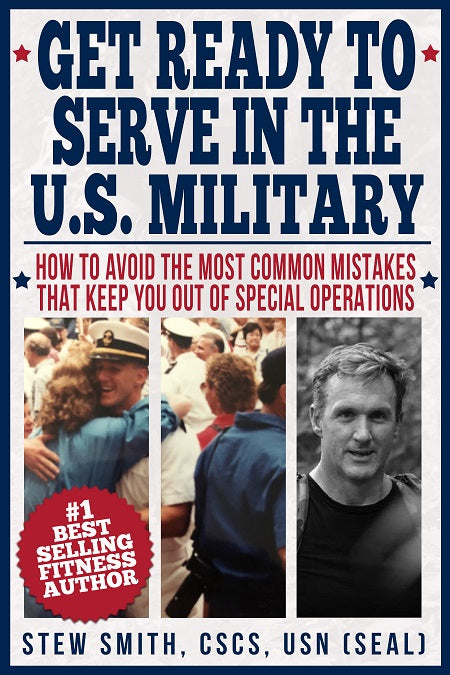 Stew Smith Fitness
EBOOK - Get Ready to Serve: Avoid the Most Common Mistakes That Keep You Out of Special Ops
NEW EBOOK Available!
"Get Ready to Serve in the U.S. Military: How to Avoid the Most Common Mistakes That Keep You Out of Special Operations."
(EBOOK ONLY - Download Now and Avoid Some of the Most Common Mistakes Recruits Make Every Year)
USE

FREE999

Coupon Code at Check out and combined with any purchase you get $9.99 off and this ebook for FREE...
Are you looking to get a special ops contract without worrying whether you're on the right path or not? With the help this downloadable ebook filled with countless links for more information, free workouts, getting To and Through basic training and special ops selection is a lot closer that you ever thought.  You will have the knowledge, guidance, and resources to make your dream a reality. 

This downloadable ebook provides an in-depth look at what it takes to get both to and through selection and special ops training. You will learn the habits and techniques needed to develop the right mindset and body to make it through the rigorous and challenging selection process. You will also gain insight into the physical and mental aspects of training. You will learn to understand the need to get serious with your nutrition, sleep, and mental / emotional preparation that are essential for success.

Don't make the mistakes of so many others before you! Read these common mistakes and LEARN from them - Don't Repeat Them! Within the eBook you will also find additional training resources. With detailed videos, exercises, and nutrition guidance, you can get the best advice from Stew Smith himself. This is his coaching philosophy and mentorship in one easy to read eBook. 
Don't wait any longer. Prepare yourself for the ultimate challenge of special ops training with the help of StewSmithFitness.com and Getting To and Through Basic Training and Special Ops Selection. Start your journey today!
---
Share this Product
---
More from this collection