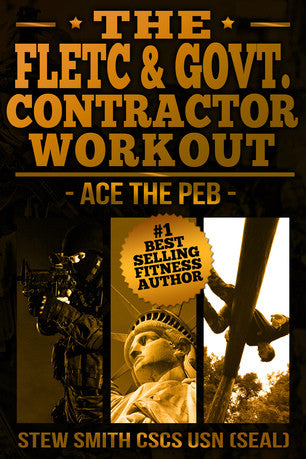 stew smith fitness
BOOK-LE: The FLETC PEB / DoD Contractor Workout
Federal Law Enforcement Officers attend FLETC - Learn how to ace the PEB with this program and make the physical part of training a stress reliever, not a stress increase-r so you are able to concentrate on learning your job!! This TEN week workout program will prepare you for the PEB as well as the rigors of your training program.

The List of Law Enforcement Training done at FLETC is enormous. Here are a few of the additional groups who train at Glynco, GA facility:

DOD - Criminal Investigative Service (CIS)- US Marshals - Federal Protective Service - Amtrak Police - Transportation Security Admin. (TSA) - Federal Bureau of Prisons - Maritime Law Enforcement - National Park Ranger - National Park Police - US Postal Inspector - US Capitol Police - US Mint Police - and several more...

Many of the Government Contractors also have to take the PEB as part of the hiring process.

Also included is a 30 Day Beginner Workout plan to prepare you for the PEB Training Plan designed for Intermediate level.

_______________________________________________________

"This is a commercial fitness site and not affiliated in any way with the Federal Law Enforcement Training Center - The use of the words FLETC does not imply nor infer any endorsement, either explicit or implicit, by the Federal Government or any law enforcement agency"
If You Prefer the EBOOK - See EBOOK download link option
See official FLETC Site at www.FLETC.gov for up to date information on the hiring / training process.
---
Share this Product
---
More from this collection