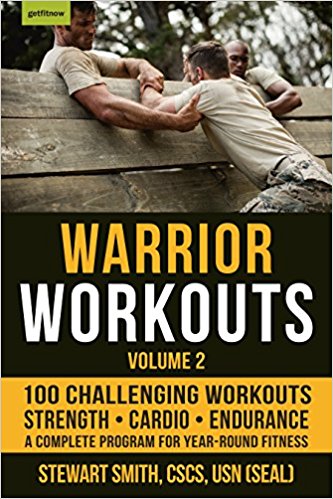 Stew Smith Fitness
noBOOK - Warrior Workout Volume 2 (READ DESCRIPTION)
THIS BOOK IS NO LONGER SOLD AT STEWSMITHFITNESS.COM - YOU HAVE TO GO TO AMAZON.COM TO PURCHASE THIS PROGRAM:
Need ideas for Stew Smith's Seasonal Tactical Fitness Periodization System) - this book has 100 ideas for you to add to your current training / programming.  This is ideal for those who like to make their own workouts, don't feel like following a multi-week schedule. 
Warrior Workouts, Volume 2 features over 100 all-new workouts designed to simulate the year-long periodized training of Navy SEALs and special forces elite. Learn how to use periodization for any tactical profession to improve performance as well as create longevity in a physically challenging profession.

Combining a wide range of exercise information with tailored progression plans from legendary fitness expert and former Navy SEALs Stewart "Stew" Smith, this program turns your everyday workouts into warrior workouts.

Warrior Workouts, Volume 2 features challenging workouts, including:

Build Your Own 300 Workout: The perfect method to fit any program!
PT Supersets: Intense training for maximum results!
Death by Push-Ups: Can you survive this grueling core workout?
TRX 5 x 5 x 5 Workout: Weighted TRX workouts for extra challenge!
Beat Your Weakness Workout: Surpass your cardio limits!
Tactical Strength Fitness Test: The ultimate measure of your endurance!

Drawn from the same essential training and workout plans used for military special forces, police, firefighters and other tactical professionals to keep them fit and in optimal physical condition, Warrior Workouts will challenge you to dig deep and find strength you never knew you had.

• CLEAR, PROVEN RESULTS FROM TACTICAL FITNESS PIONEER.  Warrior Workouts take all of former Navy SEAL Stew Smith's teaching experience and puts it in your hands. 

• REACH YOUR ABSOLUTE PHYSICAL PEAK. Designed to push the human body to the brink, Warrior Workouts challenges you to dig deep and find strength you never knew you had. 

• COMPLETE FITNESS PLAN FOR MAXIMUM RESULTS. Warrior Workouts contains a comprehensive workout schedule designed to drive you beyond the limits of your strength, speed and endurance to achieve never-before-seen results.
Get the new book by Stew Smith - Warrior Workout 
WARRIOR WORKOUTS series is an à la carte format.  This is great for those of you who like to pick and choose workouts to add to your week.  You can use it as a supplement to current workouts or arrange the workouts in your week to create challenges with over 100 different options.  These are Tactical Fitness type workouts that you can arrange in any cycle you are in:  lifting, calisthenics, high rep calisthenics / high mile cardio, swimming, rucking, speed and agility too.  Volume 2 is arranged in a Winter, Spring, Summer, Fall organization that helps with building a complete tactical athlete throughout the year – Tactical Periodization Model.
---
Share this Product
---
More from this collection