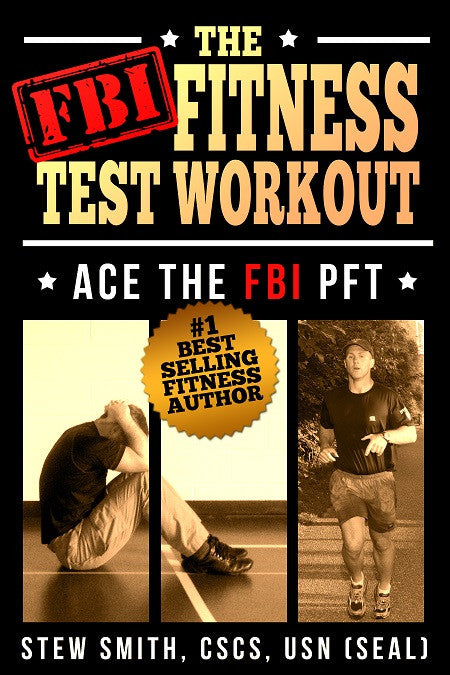 stew smith fitness
EBOOK-LE: FBI PFT / Academy Workout vol 1
Did the FBI PT Test recently crush you when you took it for the first time? Don't worry it happens if you are not used to putting all the events together. But time is tight - so stop wasting time: This is a program to teach you how to ace the FBI PFT so you can get hired and not have to wait six months again to re-apply.


NOW with the NEW FBI PT Test standards and exercises.

Pullups, situps, pushups, 300m run and 1.5 mile run

*NOTE - the DEA recently changed their PTT to match the current FBI Fitness Test.

Download and Start Training Immediately!

See comments from current FBI agent:

"At 29, I decided to change careers and enter the law enforcement field. I was  5'8", 260 lbs, and unable to complete the State Police PFT. I purchased your FBI Academy / PFT Prep Workout and ritualistically followed it 6 days a week for over six months. When I applied and tested for the State Police, I received superior marks on all levels, and an excellent in the 1.5 mile run. I entered academy at 31 years old and 185 lbs and excelled though academy. So, thank you for everything you do for today's modern warrior."
_______________________________________________________

This Program also will prepare you for the Cooper's Institute Standards for Law Enforcement Physical Assessment tests (vertical jump, pushups, situps, bench press, 300 m run, 1.5 mile run) used by the following state law enforcement agencies:

Arizona, Colorado,Georgia, Idaho, Indiana, Minnesota, New Hampshire, North Carolina, Oklahoma, Pennsylvania, Rhode Island, South Carolina, Vermont, Washington.

Stew Smith's proven programs work for people who do the workouts. For customer service you cannot put a price on, just email Stew at stew@stewsmith.com for answers to your questions about fitness and military training.
THIS IS A DOWNLOADABLE PROGRAM - LOOK FOR THE DOWNLOAD BUTTON AFTER YOU PLACE YOUR CREDIT CARD INFO.

IF you prefer the BOOK version, See the FBI PT Test / Academy Workout (vol1) BOOK and prepare to get accepted INTO the Academy. 
---
Share this Product
---
More from this collection