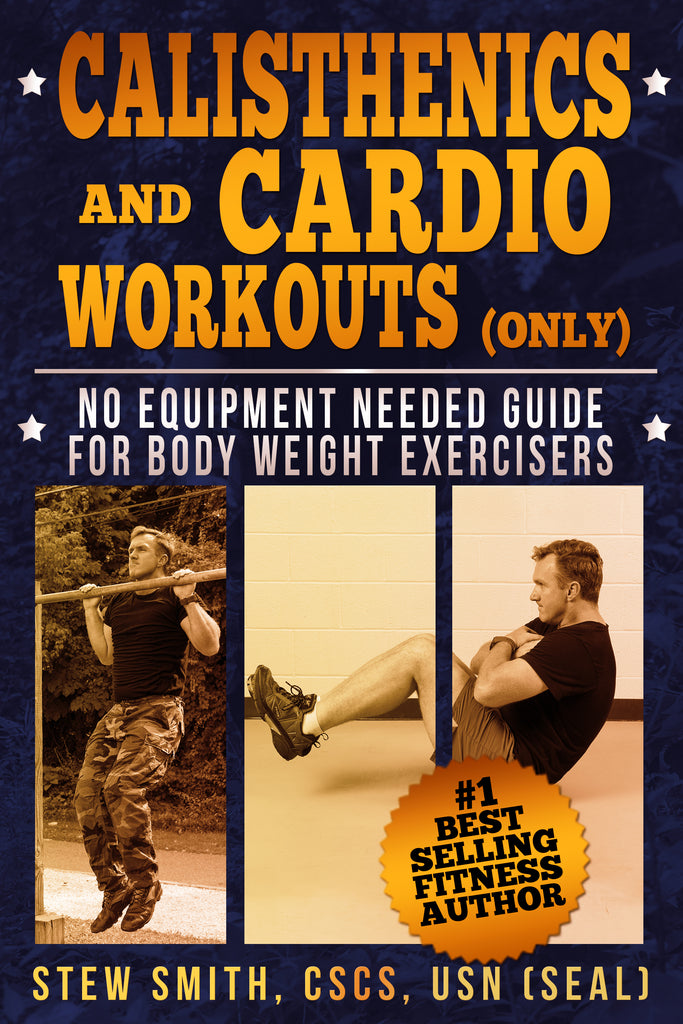 stew smith fitness
EBOOK - Calisthenics and Cardio Workouts (only)
AVAILABLE NOW

Don't want to join a gym?  No problem! Need to get better at muscle stamina and endurance?  This is the plan for you!  Lose Weight? Whether you are just starting out with exercising or wanting to add in a 6-14 week cycle of intermediate / advanced PST workouts, this program has the answers for both ends of the fitness spectrum. 
MINIMAL EQUIPMENT NEEDED GUIDE FOR EXERCISERS WITH NO GYM EQUIPMENT
Well, you do need a pullup bar and a place to run, bike or swim, but all cardio options are available and if there are calisthenics you cannot do, you can replace with an easier dumbbell, TRX, or sandbag / rubber band or weighted option. 
You will be exposed to higher repetition calisthenics and longer / faster cardio events as you progress through the weeks of this muscle stamina and endurance cycle.  This cycle is my local pre-military / spec ops training groups summer phase, though you can do this cycle anytime during the year depending on your needs.  

Do you need to crush the PST?  This is it.
Do you need to get better at running and swimming? This is it.
Do you need to train at home with little to no equipment available?  This is it.
Here is what you get:

- A 30 Day Beginner Chart to get moving again - TRUE BEGINNERS.
- A Six Week Intermediate program that progresses with miles of running and meters of swimming as cardio options along with building a calisthenics base. 
- An Eight Week Advanced Spec Ops Level PST prep cycle that will focus not only on the PST, but many of the other exercises seen in grinder PTs and beat down activities (Bear crawls, fireman carries, lunges, etc). 
Get the EBOOK today.  Download NOW!  Start Today! 

NOTE - If you prefer the BOOK version - see Book link - Calisthenics and Cardio Workouts BOOK. 

Any questions along the journey? Please feel free to email the author - Stew Smith CSCS at stew@stewsmith.com
ANOTHER OPTION - APP FORMAT!
---
Share this Product
---
More from this collection