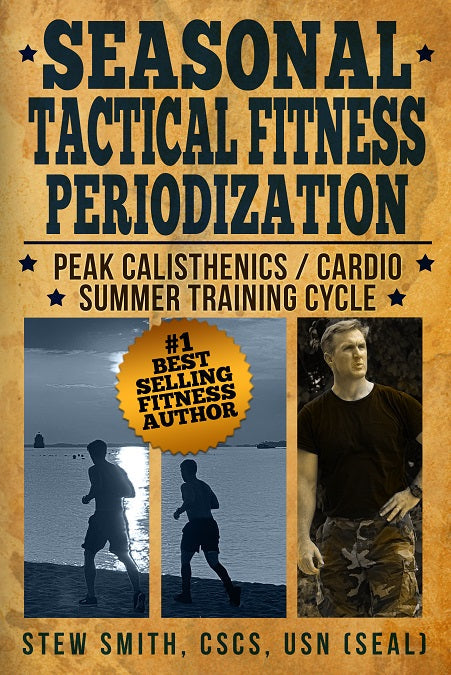 Stew Smith Fitness
EBOOK - Summer Peak Cals and Cardio (Muscle Stamina & Endurance)
Seasonal Tactical Fitness Periodization - Summer Peak Cardio Endurance / Stamina Training Cycle – with Optional De-load Week
Download EBOOK NOW!
The Seasonal Tactical Fitness Periodization Summer Calisthenics / Cardio Peak Progression Cycle is a capstone in annual training for peaking at competitive levels in both endurance (run, swim, ruck) and muscle stamina (calisthenics). This 13+week cycle (depending on your de-load weeks) will incorporate a linear progression for overall training volume model. There will be some maintenance of strength options for you as well placed appropriately in the cycle if you need them. However, the primary focus will be more on calisthenics and cardio progression. Recovery is important as with any phase, but when you mix in high rep calisthenics and high-volume cardio (run, ruck, swim), you must keep everything in near perfect balance to fully recover from such training weeks. Hydration and electrolytes also matter with your recovery especially in the hotter months of the year. If you have a typical fitness test of calisthenics and cardio events, this is the cycle for you if you want to crush it on advanced levels.

That is what we did for 12 weeks (+ week 13 testing) of the Summer STFP cycle: (it is OK to extend this to 15-16 weeks by adding DELOAD weeks if needed)
This steady progression of running miles (up t 40/week), swimming time, and rucking mixed with higher volumes of calisthenics will take time to complete and may even require a second session on some days. However, if feeling burned out or pressed for time in each week, you can opt for the "de-load" week that consists of 1-week of strength maintenance with moderate cardio / calisthenics (mainly as warmups / cooldowns). The reduction in running for a week was a nice break to the trainees, but we still focused on speed but with near 50% reduced volume. Adding or subtracting miles per week is an individual issue and depends on your running history and prior progression. Adjust accordingly.
Get the Four Part EBOOK Series
and Have An Answer to the Entire Year 
BOOK VERSION? If you prefer the BOOK VERSION - Click this link and buy the book that will be mailed to you. 
---
Share this Product
---
More from this collection