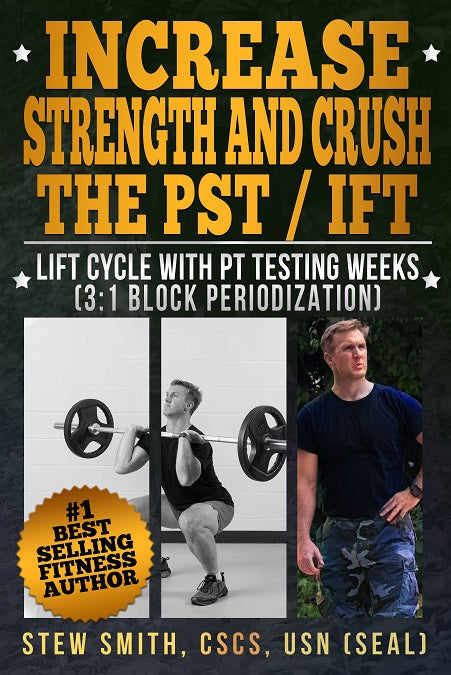 stew smith fitness
EBOOK - Increase Strength (Lifts) and Crush the PST / IFT Tests (Run, Swim, Cals)
Increase Strength (Lifts) and Crush the PST / IFT Tests (Run, Swim, Cals)
What is My 3:1 Block Periodization?
The Lift Cycle with PT Test Blocks 
The Tactical Fitness Periodization cycles at StewSmithFitness.com are created from over 20 years of experience, testing, and evaluating results. My seasonal way to train that makes both operational and physiological sense to the tactical athlete. When the days are longer in the Spring/Summer, the workouts require more time as you spend more time adding volume of calisthenics, running, and swimming to your training day. Building and maintaining all the elements of fitness requires time and patience and a few lift cycles to adequately prepare yourself without burning out and risking injury. Therefore, we use periodization. However, the mix of the two cycles we typically do in the Summer and Winter can also be accomplished IF you are one of those athletes who has decent PST/IFT scores but need to gain strength and maintain PT test scores.

Consider what the cycles of periodization are:
The Macro Cycle is the full year of Seasonal Tactical Fitness. (link)

The Meso Cycle is the individual 13 week season (Spring, Summer, Fall, Winter)

The Micro Cycle is the 3:1 Block Periodization that is a section of the Fall / Winter Lift Cycles. This program uses 16 total weeks of that micro model. 
Here is How the 3:1 Block Periodization Cycle Works 
The start of this Winter Lift Cycle, I decided to try something new as the normal long term Winter strength training cycle can get stale with performance plateaus if you are not careful and actively pursuing recovery. You must keep everything in near perfect balance in order to fully recover from hypertrophy and strength training cycles (nutrition, sleep, smart split routines, balanced overload principle with recovery / mobility days). You have a choice with this block periodization model:
You can do a deload week which is an easier recovery week that is quite common during strength cycles or you can do a modified deload week and replace lifting with calisthenics and cardio focusing on the PST / IFT elements (timed run and swim, pullup, pushups, situps).

That is what we did for 16 weeks of the Fall / Winter Lift cycles:
4 Cycles of the following: 3 week strength with moderate cardio / calisthenics (mainly as warmups / cooldowns THEN 1 week PT and Cardio focus.
In the 16-week cycle. Here is what you get with the 3:1 Block Periodization Lift / PT Cardio cycle:
This yields 12 total weeks of strength and 4 weeks of PT / Cardio focus in a 16-week timeline. Since this is a strength cycle (Winter Lift) the 3:1 strength to calisthenics / cardio (or deload) makes sense and still gives the athlete 12 weeks of strength training time while improving or maintaining all PST / IFT Test scores at the same time.
THIS IS A DOWNLOADABLE PRODUCT. START IMMEDIATELY AFTER PURCHASE!  iF YOU PREFER THE BOOK VERSION - SEE BOOK - 3:1 Block Strength to PST / IFT Cycle
---
Share this Product
---
More from this collection