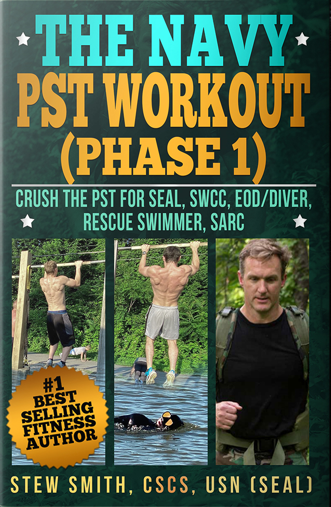 stew smith fitness
01BOOK - Navy PST Workout Phase 1 (16 WEEKS!)
NEW: Crush the Navy PST (and more)
(SEAL, SWCC, EOD, Diver, SAR Swimmer, and SARC)
Formerly this book was the Navy SEAL, EOD, Diver, PST Workout (Phase 1) but in 2023 it has been updated with new workouts, swimming / treading drills, running workouts, and an additional 4 weeks of workouts to prepare you for the Navy Human Performance Test (HPT) used by EOD / Divers in their pipeline.
IMAGINE THIS: You arrive at your first PST with your recruiter, and you crush it on day 1 and get a contract. That is what the workouts in this updated program will do for you!
This confidence will help you to keep the new focus on getting THROUGH the training (Phase 2 of tactical fitness) and keep the thought of quitting out of your head. You will build mental toughness one day at a time - Get on a program today!
Are you meeting minimum standards on Navy SEAL, SWCC, EOD,/Diver PST, SAR Swimmer, or SARC? This workout will help you build up to competitive level (auto-qual) scores on the PST and more (swims with fins, 4 mile runs, rucks, and log PT prep). This program has EVERYTHING!
Are you worried about challenging yourself with quite possibly the toughest training in the military? Are you durable enough? Do you have the work capacity to last all day and well into the evenings? These workouts will change that and help you build confidence that you can handle the training - IF YOU DO THEM!
Stew Smith's proven programs work for people who do the workouts. Get access to Stew Smith when you buy his products. This is customer service you cannot put a price on. Just email Stew at stew@stewsmith.com for answers to your questions about fitness and military training.
Crush the PST for any Navy Spec War / Spec Ops Job as well as the Human Performance Test (HPT)
IF YOU PREFER THE DOWNLOADABLE EBOOK VERSION CLICK HERE

These workout routines REALLY work! All you have to do is commit yourself to completing the programs. Feel free to email Stew Smith along the way if you have any questions about the workouts or training in general.

QUOTE from Special OPs operator:_________________________

Stew - I'm still in the Teams and recently finished up another deployment to Iraq (#4), I just wanted to say hello. Thanks for everything that you do for our police and military and for your dedication to helping people become fit. You have always been an inspiring guy, and you were the primary influence in my decision to become a SEAL long ago. Take care. JJ

THIS IS A BOOK AND WILL BE MAILED
---
Share this Product
---
More from this collection