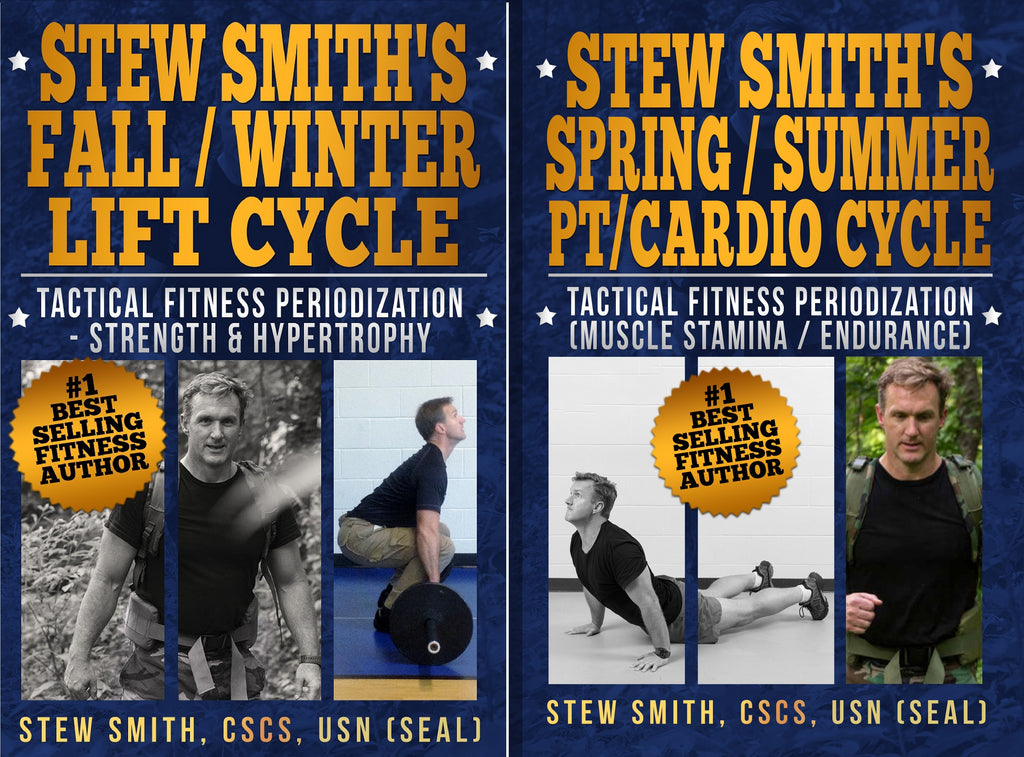 stew smith fitness
COMBO - Fall-Winter and Spring-Summer (Stew Smith's Personal Program) BOOKS
Sale price
$ 39.95
Regular price
$ 45.90
Stew Smith's Spring and Summer PT / Cardio Cycle ebook (or book) and the Fall / Winter Lift Cycles (two programs) holds the secret to build muscle stamina and cardio endurance (run / ruck / swim modes) in the upper body, legs, and lungs. The programs emphasizes cardiovascular activity and high repetition resistance training to crush military / police / spec ops fitness tests in the Spring / Summer and just the opposite in the Fall / Winter. 
Stew Smith's Spring and Summer PT / Cardio Cycle, and the Fall / Winter Lift Cycles sold by Stew Smith Fitness. Stew Smith who has been creating Tactical Fitness programming for over 20 years. Stew Smith is a Navy SEAL veteran / CSCS of StewSmithFitness.com and helps struggling Military, Special Ops, Law Enforcement, and Firefighter candidates get TO and THROUGH intense tactical assessment and selection programs. Using his books, ebooks and online coaching, you will qualify for service in the tactical professions.
If you are serious about physical preparedness and success and you really want get TO and THROUGH military training, check out this Tactical Fitness Combo  to help you with more details of running, rucking, swimming, calisthenics, lifting, and overall preparedness for military and special ops training.
Here's the big payoff for you: if your weakness is strength, power, and speed. This periodization program is the winter lifting phase we have tested for over 20 years with amazing results. If you need more work with endurance (running / swimming) and higher repetition calisthenics for muscle endurance, then consider Spring / Summer PT Cardio Cycle.  If you want to learn how to build both and maintain both - get both - buy both now!  
Stew Smith's Spring and Summer PT / Cardio Cycle is for you if you are a stronger type athlete (strength / power athlete) and need to work on your endurance and high repetition calisthenics and weighted activities of selection programs in your future.
Stew Smith's Fall / Winter Lift Cycle is for you if  you are stronger with endurance but weak with load bearing, rucking, swims with fins, and general strength and power. 
These two programs together are 48 weeks of periodization training that will span your year of training. 
Every year for over 20 years,  I have used programming like this to build strength / power, speed / agility, flexibility, mobility, and endurance / muscle stamina. The good news for you is, it is $22.95 for each book - Now with a buy both and save money. 
But when you compare this book to other programs, there are many ways to build durability and general work capacity and maintain strength / endurance.  All work. But this program helps you maintain other elements of fitness without being detrimental to previous gains.
You should definitely grab these books as you need to understand your strengths and weaknesses. These strengths and weaknesses we all have are fitness elements that include strength, power, speed, agility, endurance (run, swim, ruck), muscle stamina, grip, flexibility and mobility.  
Stay extremely fit - no matter what your age. But you may find that you need to build up to these advanced programs.  No worries - do what you can and try again until you reach the standards in the books. 
Order Now - Both Books. 
Or Order individually:  Spring / Summer PT / Cardio Cycle

Fall / Winter Lift Cycle
---
Share this Product
---
More from this collection