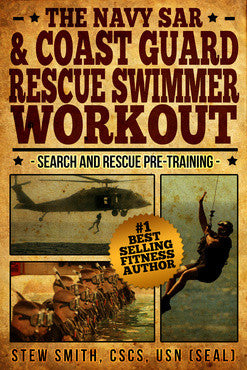 stew smith fitness
1BOOK-mil: US Navy and Coast Guard Rescue Swimmer Workout (updated 2020)
Now Updated with Ten Weeks of Workouts! (BOOK)

This workout is perhaps one of the more challenging workouts involving running, swimming, and countless reps of pushups, flutterkicks, situps and pullups. This program will definitely prepare you for the workouts at Coast Guard Helicopter Rescue Swimmer  Specialist (HRSS) and Navy Search and Rescue (SAR) School - it is up to you to become so familiar with the water that it is comfortable in stressful situations.


This workout will help with your water confidence and overall fitness so you can focus on the task at hand and not be too fatigued to continue training.
For more information on Air Rescue Training and Fitness Recommendation - see link. 

Good luck and feel free to email me if you are any problems with this or any of my programs. stew@stewsmith.com

Buy now and we will mail you the book. But if you prefer the downloadable EBOOK - see this link.
---
Share this Product
---
More from this collection