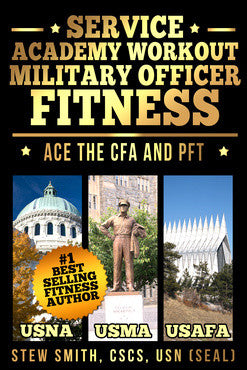 stew smith fitness
1BOOK-mil: Candidate Fitness Assessment Workout: USNA, USAFA, USMA (Service Academies)
Newly Updated in 2020 to reflect current changes to Academy Fitness Tests.

The Candidate Fitness Test remains unchanged, but the Naval Academy and West Point has made changes to their fitness tests they take every semester.  If you are looking at applying to the Service Academies - make sure you can ace the CFA - Candidate Fitness Assessment which consists of:
Kneeling Basketball Throw
Pushups
Situps
Pullups
Shuttle Run
1 mile timed run
But while you are awaiting appointment, you should start your preparation for the Academy as the workouts will change a bit.  The better you score, the more competitive you are to enter into the program. As a Naval Academy graduate and trainer to the Summer Seminar recruits and incoming freshmen, I can attest that this workout will work for you.  This program is a compilation of the past ten years of Naval Academy training experience as a guest trainer for many admissions programs.
If you've ever wondered "Can getting better at the CFA help my application?" this program created by Naval Academy Graduate Stew Smith - Former Navy SEAL / USNA Spec Ops Team Coach - has the answer every service academy candidate needs to know. 
This is a BOOK that will be mailed after purchase.  If you prefer the EBook see the Candidate Fitness Assessment Workout eBook link. 
---
Share this Product
---
More from this collection