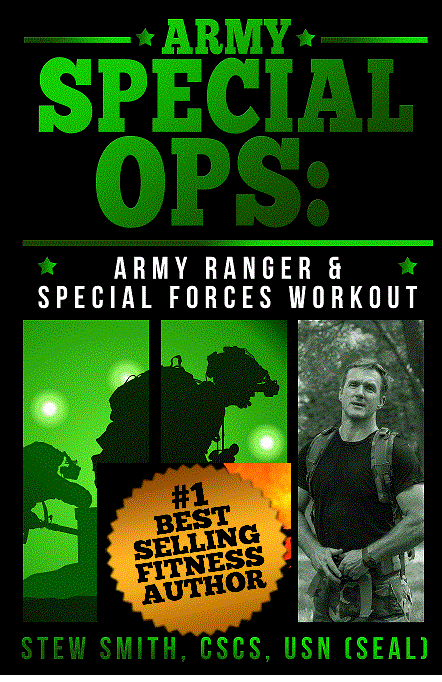 stew smith fitness
01BOOK - Army Special Ops (Ranger / SF Training)
Time to Prepare, Exceed the Standards, and Crush Selection.
*Updated 2023 with NEW RPA Test and Standards
How to Prepare Your Body For the Challenges of Army Special Ops Training Using Proven Training Methods! New Updated Twelve Week Plan (Army Ranger and Special Force Prep)

DOWNLOADABLE FORMAT *(also in book format - see link)*

Ranger and Army SF training requires many months of pre-training if you are expected to perform well. Get used to the long days of rucking, running, Pt and more with this guide to Army fitness. Do not be ill-prepared!

Army Ranger Training PFT - Instead of TWO mile run after pushups and situps, you will run 5 miles in under 40 minutes - THEN do pullups. Also the new OPAT and ACFT Fitness Tests rolled out recently should be considered into your training now!
The New Ranger Physical Asssessment (RPA) for RASP will be the following:

1 mile run + 6 pullups + 100m Kb run + 100m IMT drills 100m Skedco drag+ 2 mile run (goal under 27 minutes)

See testimonial from Marine who did Ranger / SFAS / Q Course 

Sir - Long time follower of your workouts, in fact I have successfully used 'The Army Special Forces / Ranger Workout' for Ranger School and again for SFAS - It is the first thing I recommend to those going to SFAS. (The rucking guidance was essential)

My experience with your plans began when some USNA graduates turned me on to them when I was a Marine, I've found that if you follow them religiously, you will finish in top 5% of any selection process (at least in physical terms).
__________________________________________________________
FOR GO RUCK EVENTS TOO! - Stew, I used this workout to prepare for a GoRuck Heavy and felt great even after 24 straight hours of rucking, moving logs, getting wet and cold. I know you like the GoRuck SF guys - they run a great program that is helping me test myself for SF Selection / Q Course!
__________________________________________________________
Plus, feel free to email Stew Smith anytime if you have questions about fitness / nutrition / injury prevention etc...This workout has been a proven success in helping Army soldiers achieve the Green Beret and the patches that are earned by graduating these challenging Army Courses.

This plan is 12 Weeks worth of workouts...91 pages in a easy to use coil bound softcover format.

Stew Smith's proven programs work for people who do the workouts. Get access to Stew Smith when you buy his eBooks. This is customer service you cannot put a price on. Just email Stew at stew@stewsmith.com for answers to your questions about fitness and military training.
---
Share this Product
---
More from this collection