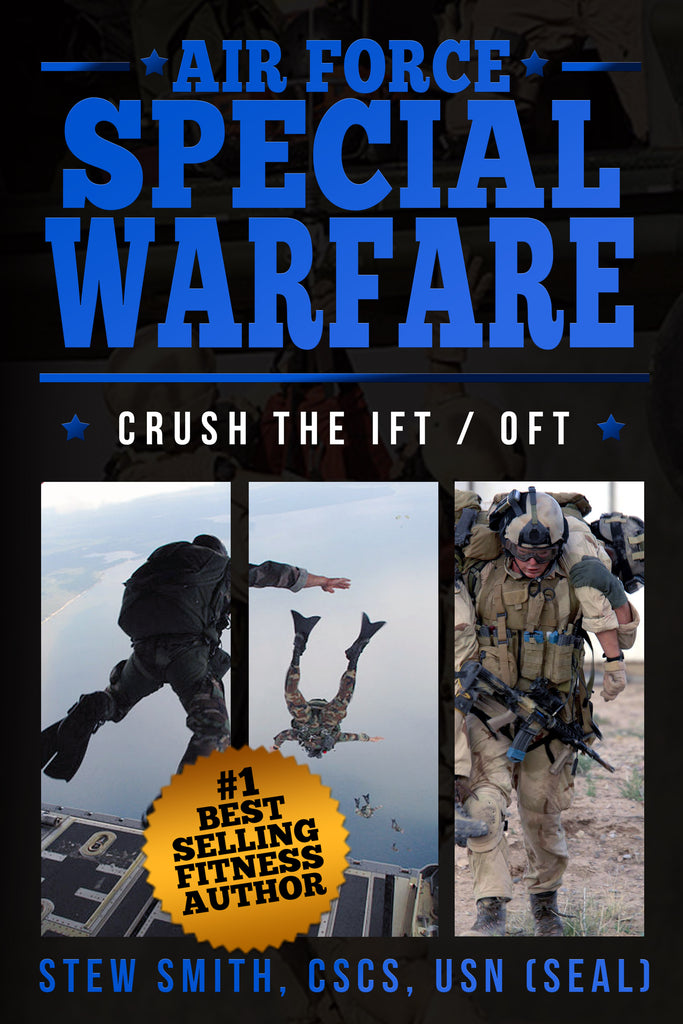 stew smith fitness
EBOOK-so: Air Force Special Warfare / Special Tactics / PAST (IFT) - OFT Workout
Sale price
$ 17.97
Regular price
$ 19.97
The Air Force PJ, CCT, SR, TACP Workout Program (eBOOK version)
With New Air Force Special Warfare Prep Course Update (2021),
PAST focus, Water Confidence Events, and the Operator Fitness Test (OFT)


Plus additional programming for Special Tactics Officer (STO) and Combat Rescue Officer (CRO)
Ace the Air Force PAST for Pararescue (PJ), Combat Controllers (CCT), Special Reconnaissance (SR), and TAC-P, Special Tactics and Combat Rescue  Officer occupations:  500m swim, 1.5 mile run, pushups, pullups, situps, underwater swims.  
Also this plan helps you prepare yourself for the challenging pool confidence (watercon) events such as drown-proofing, life saving, buddy breathing, and more.. 
AF PJ / CCT training is about as tough as it gets! You need several months of rigorous training prior to attending this school. AND tons of water exposure! Get comfortable in the water and fit enough to survive any training!

Train hard - so "Others May Live". This is an advanced program that will prepare you in running , PT and swimming, and pool drills. Ten weeks worth of workouts and packed with information and workouts and tips to help you prepare for a grueling training pipeline.
THIS IS NOT A BOOK:  If you prefer the book version, Air Force Special Ops - See link for the paperback that will be mailed to you.  
________________________________________________

Testimonial from USAF PJ/ CCT Workout user:

I wanted to send you a thank you email for your PAST Test 12 week program. Finding your site was the best thing to happen to my preparation for this test. When i started training in January of this year I did not even know how to swim. I thought that i worked fairly hard for my pre-test which I took in March, however, when it was time to take the test I realized i had highly underestimated the test itself. While i still passed it I knew I had to get into much better shape before taking the real thing, and definitely before I left for PJ school. I searched the Internet one night and came to your site, I think I read everything on your site and everything in the PJ/CCT ebook you had written. I also started the next day on the 12 week workouts, I was instantly hooked and loved the feeling of a great workout each day. It was one of the toughest things I have done but when the test came I had no doubts about anything. I knew I could pass and was ready for training... Thanks
THIS PRODUCT IS A DOWNLOADABLE EBOOK - SEE DOWNLOAD BUTTON ON THE CONFIRMATION PAGE AFTER THE SALE. BUT IF YOU PREFER THE BOOK VERSION SEE LINK BELOW:
Air Force Special Ops Workout - Ace the PJ/CCT and Beyond Workout. 
---
Share this Product
---
More from this collection