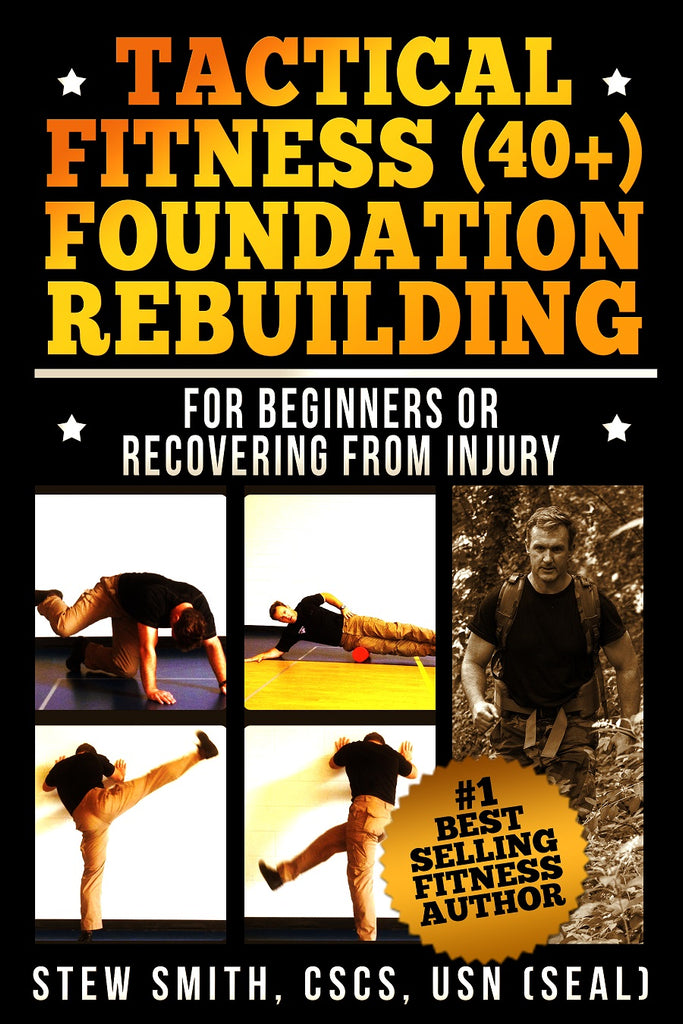 Stew Smith Fitness
EBOOK - Tactical Fitness (40+): Foundation Rebuilding - For Beginners or Those Previously Injured
Updated 2021
Attention men and women over 40 who have fallen off the fitness wagon due to illness, injury, or any other reason that life throws at you. This workout program is designed to rebuild your fitness foundation and healthy habits that can change your life!

Tactical Fitness is for Everyone! We all should consider ourselves "Tactical Athletes". In this program, we discuss the importance of being fit enough to save your own life, your family's life, or helping others who need help in life or death situations. This book will help you begin your journey and advance into a capable person again able to do things you thought were once impossible.

We all should have a certain level of tactical / practical fitness that could help us save our own lives or the lives of our loved ones in the event of a disaster (natural or man-made). Of course, basic health and wellness cannot be overlooked either. In fact, here's just a sample of the what Stew Smith will cover for you in the pages of this insightful new book: "Tactical Fitness (40+) Foundation Rebuilding – For Beginners or Those Recovering from Injury.

21 Day Habit Building Fitness Cycle – A daily approach to adding activity to your day. Total of Twelve Weeks of Training Progressively created to help you increase strength, endurance, mobility, flexibility, and overall work capacity.

Stew Smith's first major breakthrough with recovery and maintenance – Weekly Mobility Days.

The goal of this book is to help people with the roadmap to being able to save themselves or others in potentially dangerous situations, as well as build healthy habits for the rest of their long lives. The Tactical Fitness 40+ is a three-phase program (this is phase 1):

Phase 1 – Tactical Fitness 40+ Foundation Rebuilding (This EBOOK)

Phase 2 – Tactical Fitness 40+ Taking It To The Next Level

Phase 3 – Tactical Fitness 40+ Ready to Compete

Stew Smith has been training tactical athletes for over 20 years as well as those men and women who need assistance being who they used to be. As a full time fitness writer and trainer, Stew Smith is uniquely qualified to help you understand everything you need to know about recovery and maintenance! Grab your copy of Tactical Fitness (40+) Foundation Rebuilding – For Beginners or Those Recovering from Injury today.

THIS IS A DOWNLOADABLE EBOOK - SEE DOWNLOAD BUTTON ON CONFIRMATION PAGE FOR IMMEDIATE DOWNLOAD.
IF YOU PREFER THE BOOK version see the Tactical Fitness 40+ Foundation Rebuilding BOOK link
---
Share this Product
---
More from this collection