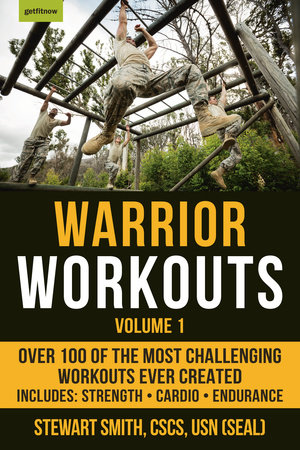 Stew Smith Fitness
noBOOK - Warrior Workouts Volume 1
OUT OF STOCK - DO NOT PLACE IN CART BUT YOU CAN ORDER FROM AMAZON.
This book contains 100 workouts written by Stew Smith over the years in an a la carte format. This is great for those of you who like to pick and choose workouts to add to your week. You can use it as a supplement to current workouts or arrange the workouts in your week to create challenges with over 100 different options.
These are Tactical Fitness type workouts that you can arrange in any cycle you are in: lifting, calisthenics, high rep calisthenics / high mile cardio, swimming, rucking, speed and agility too.

Many workouts require little to no equipment while some will be diverse and require sandbags, kettlebell, barbells, TRX, and / or vests and rucks.

These workouts are thoroughly used and tested by Stew Smith and his local Heroes of Tomorrow training program where future members of military, police, fire fighting, special ops, SWAT, and other tactical professions get prepared for their future training.

There are many new workouts that are unpublished as well as many you will recognize as some of the toughest workouts you may have ever done in the past with Stew Smith locally or from articles and ebooks and books from previous titles.

The Warrior Workout Book is a one-stop shop to all the great workouts you may have done or have never done before!
---
Share this Product