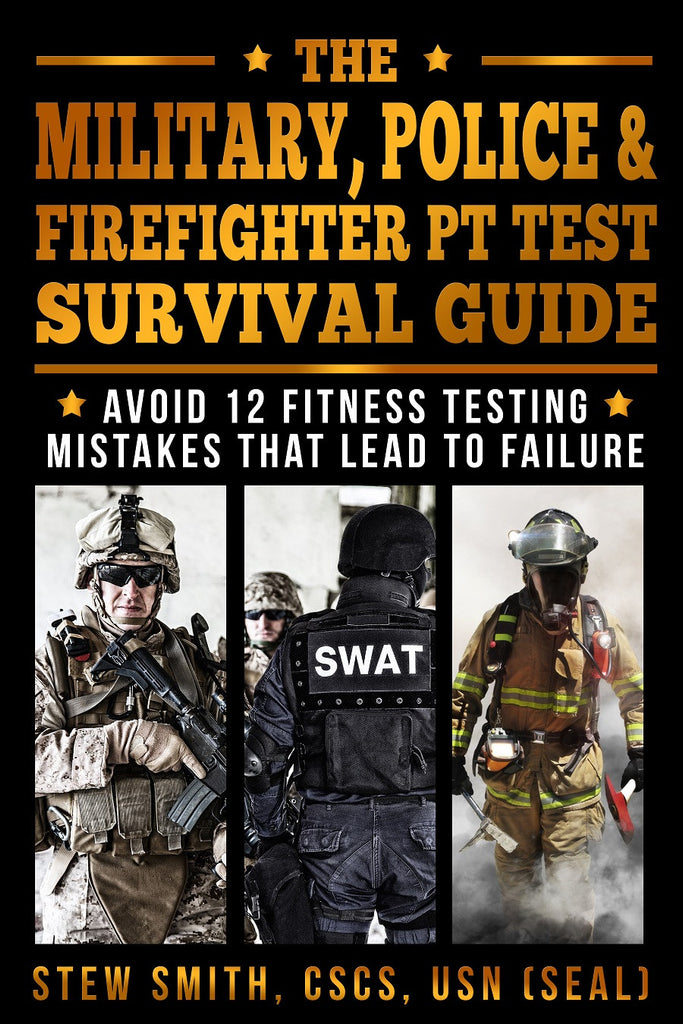 stew smith fitness
BOOK - The Military, Police, FireFighter PT Test Survival Guide
How to Avoid 12 Fitness Testing Mistakes That Lead to Failure
This is a HOW TO / EXERCISE book that will help you learn how to take a fitness test. Complete with a six-week workout plus a week 7 testing week taper routine to get you "well rested - well tested" for the next fitness test you have to take.

Note - this workout is more INTERMEDIATE LEVEL but the tips and techniques
in the twelve chapters will help you are ANY level of fitness testing.
You can use the tips, techniques, and tools I have developed over the past 25 years of personally training for, testing, and coaching others to ace fitness tests but to also gain fitness and job performance credibility, and even get in the best shape of your life and lose weight!
In this NEW breakthrough Military, Police, Fire Fighter PT Test Survival Guide, I will teach you how to build a physically stronger, fitter, and leaner body that can ace a fitness test any day of the week.
Avoid the training mistakes that developing your own workout program can yield. While, at the same time, learn Twelve PT Secrets that prevent sub-standard results most candidates and active duty veterans make during fitness tests.
We'll even show you how to double your PT scores in some cases and drop your mile pace by training smarter not harder!
In fact, here's just a sample of typical fitness test pitfalls and landmines we'll help you evade in this informative book:
Even if you give yourself a month or less, this emergency fitness plan will help you reach passing levels of fitness by specifically focusing on the test.
Understand the consequences of not learning how your body best transitions from one exercise to the next.
Know what to eat and drink Before, During and After the Fitness Test or regular workouts.
and much, MUCH More!
Don't miss this ground-breaking book that will help you STOP worrying about failure and finally turn PT weaknesses into strengths.
By the way, this book is NOT about focusing on the negative, it's about focusing on the real world and helping you get real world results with your next fitness test. So, if you are a person who has to take a fitness test (military, police, fire fighter) and who wants to avoid making mistakes that sabotage results, grab your copy today!
 Want the EBOOK version - see link to EBOOK
---
Share this Product
---
More from this collection