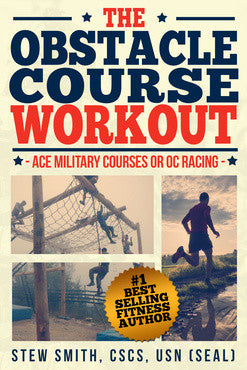 stew smith fitness
BOOK-tac: The Obstacle Course Workout
Whether you want to join the military, special operations, police, or fire fighting professions, OR you want to race and compete in the new and exciting Obstacle Course Racing events, THIS Workout is for you.


There is an eight week beginner / intermediate cycle of workouts that builds up with a logical progression of weights, calisthenics, and running workouts.
There is also an advanced eight week program for people who are very fit and want to compete in Special Operations programs and / or challenging Obstacle Course Races.

The workouts simulate obstacle courses with techniques how to get over most common obstacles as well as running intervals that will build up your in between obstacle speed.
This is a BOOK that will be mailed. 

If you prefer the EBOOK version see the Obstacle Course Workout EBOOK and download it immediately. This program has been helping people prepare for climbing walls, jumping hurdles, running and more for over two years with great results. Prepare for ANY O-Course with this download!
---
Share this Product