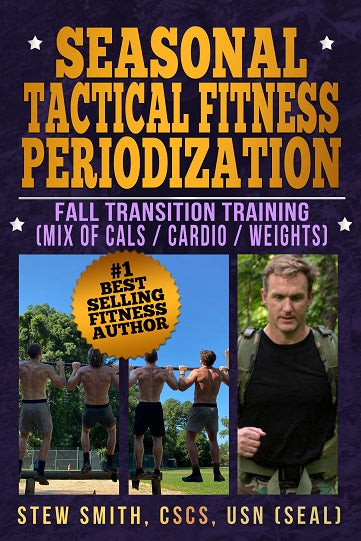 stew smith fitness
01BOOK - Seasonal Tactical Fitness Periodization - Fall Transition
How the Seasonal Tactical Fitness Periodization (STFP) - Fall Cycle BOOK Works
First - Before the year is up, the complete Fall, Winter, Spring and Summer Series of STFP will be complete!  Stay Tuned and Change things up as we go through the seasons. 
Seasonal Tactical Fitness Periodization is my method of working all the elements fitness into an annual cycle broken up with the change of seasons. This Fall Cycle is one of transition from a high mileage running and high repetition calisthenics-based training progression. In fact, the running mileage start off less than the Summer Cycle by about 25-33% and flatlines with a change in focus: Speed, Faster Goal Pace, and Agility. 
If you built up to 30-40 miles per week or more during the Summer, the reduction to 25 miles per week will be not only a time saver for your daily training but a relief from the added impact. The shift in focus to speed / faster pace running, more weighted repetitions over calisthenics repetitions is a great way to build upon the aerobic base you created in the previous cycle and give your joints a recovery cycle from impact and higher repetitions. The first six weeks of this plan will maintain your mileage at 25 miles per week and the final six weeks of this plan will drop the total running volume down to 20 miles a week (but all faster miles). The Winter Lift Cycle will continue to reduce running miles to low to mid-teens per week while the focus will be on lifting and maintaining any aerobic base through non-impact cardio activities and/or rucking depending on your abilities and future training needs.
 Swimming is a near daily event and can be used as a training event if you are preparing for any diving / swimming related training goals. However, you can replace swimming with another nonimpact cardio activity if you do not have access to swimming nor need to worry about swimming training for your short- or long-term goals. Swimming is a great way to recover from the running, rucking, lifting, and calisthenics workouts so consider a few swim options if it fits your facilities and schedule. Besides, if you are not a capable swimmer, you are ineffective on 75% of this planet.  However, if you need more rucking, you can replace one or two of the runs and make the ruck event you need to prepare for by a simple run replacement. 
There is also a block periodization option in this training where you must option to do a de-load week that focuses on maintaining prior cycle's elements of fitness. The goal for this option is to help with any needed recovery every third or fourth week from the current cycle of training. Often during strength training cycles a recovery week is helpful for progress, however in tactical fitness training, you can still de-load strength training with some moderate cardio and calisthenics for maintenance purposes.
Tactical Fitness is all about being an asset in natural or man-made dangerous situations.  Be an Asset. 
Buy now and receive the BOOK in the mail.
If you prefer the EBOOK version see link and download now: Seasonal Tactical Fitness Periodization – FALL Transition Training
Get the Four Part Series
and Have An Answer to the Entire Year 
---
Share this Product
---
More from this collection