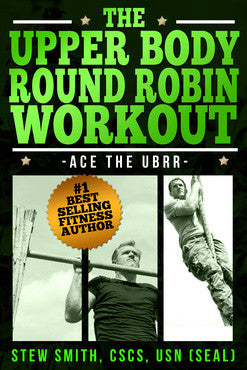 stew smith fitness
EBOOK-so: The UBRR - Upper Body Round Robin Fitness Test Workout
The eBook is here! After a year of experimenting with this new fitness test, our group created an eight week program to help you ace the UBRR! The Upper Body Round Robin (UBRR) has been growing more popular over the past year. It seems a large variety of Special Operations units are not only using this test as a form of group suffering and maintenance programming, but many are also using it as part of the selection process.
The workout in this ebook were tested daily and developed by the FREE training groups that Stew Smith holds in Maryland. They are tough but possible and are easy to scale back if you have issues with the intensity or time investment.
You will need pullup bars, bench press, a place to run a shuttle run and long distance run or ruck, a rope climb or optional towel pullups.
This is a downloadable product and not a book at this time. It does not require an ebook reader and will open on any computer with PDF Reader Software. This is a free download and is standard on most computers today. See www.adobe.com/reader for more info if you cannot open the ebook.
---
Share this Product
---
More from this collection