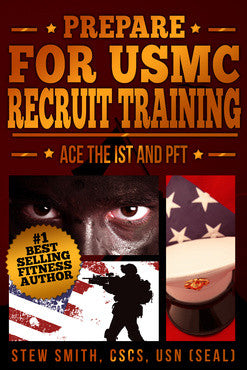 stew smith fitness
EBOOK-mil: The USMC IST and PFT Workout
Are you worried about USMC Boot Camp and performing well enough on the IST to get into training and the PFT / CFT to get through the training?  If so, check out the IST / PFT Workout and avoid the pain of failure and wasting time on an unfocused training program.
The NEW workouts in this Nine Week program geared for acing the IST and PFT and preparing for Boot Camp and future training. Updated 2019 to reflect new changes in IST, PFT, and CFT Standards. 

The USMC IST and PFT Workout plan is designed for those future military members seeking to prepare for the toughest basic training in the US military.  Not only do we focus on getting INTO the USMC, but getting THROUGH USMC Boot Camp and earning the honor of becoming a Marine.

This program will help you with running/rucking speed and endurance, pullups, crunches, as well as other exercises commonly seen in boot camp. Prepare your legs and back now for the miles of running and rucking you will do at bootcamp. Do not go unprepared!

Email the author anytime at stew@stewsmith.com if you have any questions along the way.
THIS IS A DOWNLOADABLE EBOOK - IF YOU PREFER THE BOOK VERSION MAILED TO YOU - SEE THE LINK - The USMC IST / PFT Workout
---
Share this Product
---
More from this collection