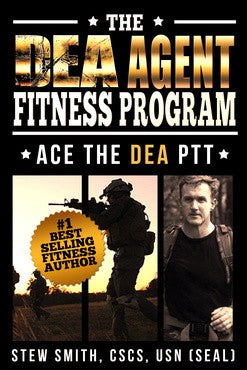 stew smith fitness
EBOOK-LE: The DEA PTT Workout
Prepare for the Drug Enforcement Administration Special Agent PTT.  This workout focuses on the PTT as well as the high rep calisthenics / miles of running you will do at the Academy.
The DEA Academy is one of the toughest and physically challenging law enforcement programs on the planet. For the added fitness requirements needed at the Academy, this ebook has been helpful to many present DEA agents for since 2003. Challenge yourself with the high reps /speed / endurance workouts in this program.
Testimonial: Thanks Stew - I am a DEA agent now and breezed through the PTT thanks to your ebook. I could barely pass the PTT prior to your ebook but after doing it twice, I crushed it. The Academy was TOUGH, but I was able to suck it up and push through after experiencing similar workouts in your workout. _________________________________________________________
Just email Stew at stew@stewsmith.com for answers to your questions about fitness and military training.
This is a downloadable program, but if y ou prefer the BOOK version
see the link DEA Agent Fitness Program - Ace the DEA PTT BOOK
---
Share this Product
---
More from this collection